America under Attack Sept 11, 2001
WE as AMERICANS can deal with this tragedy and support our elected leaders, you can rest assured that President Bush will not let this cowardly act of terrorism go unpunished. May our prayers be with our elected officials, and those affected by this tragedy, and their families. To Discussion forum click here
On the lighter side: On the lighter side contains a flash movie of President Bush and Secretary Powell singing about the demise of Bin Laden. Page 2 contains a Windows media movie of an interview With Bin Laden, and what some feel we should do to him. These two clips are not meant to offend anybody, and if you think they may please donít go there.

To Pictures of America under Attack Sept 11 :Click to Enter
Planes Crash Into World Trade Center in Apparent Terrorist Attack.
From the start "top" to current "bottom"
Update: President Bush says the nation's military has been placed on "high-alert status." Flown from Florida to the safety of a military base in Louisiana, he said, "We will do what it takes, whatever's necessary to secure America and Americans."
In a horrific sequence of destruction, terrorists crashed two planes into the World Trade Center and the twin 110-story towers collapsed Tuesday morning.
Explosions also rocked the Pentagon and the State Department and spread fear across the nation.
The fate of those in the skyscrapers was not immediately known. Some estimate thousands of people may have died in the incident. Authorities had been trying to evacuate the 50,000 people who work in the twin towers, but many were thought to be trapped.
"This is perhaps the most audacious terrorist attack that's ever taken place in the world," said Chris Yates, an aviation expert at Jane's Transport in London. "It takes a logistics operation from the terror group involved that is second to none. Only a very small handful of terror groups is on that list. ... I would name at the top of the list Osama bin Laden."
President Bush ordered a full-scale investigation to "hunt down the folks who committed this act."
Within the hour, an aircraft crashed on a helicopter landing pad near the Pentagon, and the West Wing of the White House was evacuated amid threats of terrorism. And another explosion rocked New York about an hour after the crash.
United Airlines confirms that one of its flights from Newark, New Jersey to San Francisco has crashed near Pittsburgh.
Authorities went on alert from coast to coast, halting all air traffic, evacuating high-profile buildings and tightening security at strategic installations.
Evacuations were ordered at the United Nations in New York and at the Sears Tower in Chicago. Los Angeles mobilized its anti-terrorism division, and security was intensified around the naval facilities in Hampton Roads, Va.
One of the planes that crashed into the Trade Center was American Airlines Flight 11, hijacked after takeoff from Boston en route to Los Angeles, the airline said.
The planes blasted fiery, gaping holes in the upper floors of the twin towers. A witness said he saw bodies falling and people jumping out. About an hour later, the southern tower collapsed with a roar and a huge cloud of smoke; the other tower fell about a half-hour after that.
Firefighters trapped in the rubble radioed for help.
"Today we've had a national tragedy," Bush said in Sarasota, Fla. "Two airplanes have crashed into the World Trade Center in an apparent terrorist attack on our country." He said he would be returning immediately to Washington.
The crashes at the World Trade Center happened minutes apart, beginning just before 9 a.m. (ET).
Heavy black smoke billowed into the sky above one of New York City's most famous landmarks, and debris rained down on the street, one of the city's busiest work areas. When the second plane hit, a fireball of flame and smoke erupted, leaving a huge hole in the glass and steel tower.
John Axisa, who was getting off a commuter train to the World Trade Center, said he saw "bodies falling out" of the building. He said he ran outside, and watched people jump out of the first building. Then there was a second explosion, and he felt heat on the back of neck.
WCBS-TV, citing an FBI agent, said five or six people jumped out of the windows. Witnesses on the street screamed every time another person leaped.
People ran down the stairs in panic and fled the building. Thousands of pieces of what appeared to be office paper drifted over Brooklyn, about three miles away.
Several subway lines were immediately shut down. Trading on Wall Street was suspended. New York's mayoral primary election was postponed. All bridges and tunnels into Manhattan were closed down.
David Reck was handing out literature for a candidate for public advocate a few blocks away when he saw a jet come in "very low, and then it made a slight twist and dove into the building."
Terrorist bombers struck the World Trade Center in February 1993, killing six people and injuring more than 1,000 others.
"A second occurrence is just beyond belief," said Ira Furber, former National Transportation Safety Board spokesman.
"It's just sick. It just shows how vulnerable we really are," said Keith Meyers, 39, of Ohio. "It kind of makes you want to go home and spend time with your family. It puts everything in perspective," Meyers said. He said he called to check in with his wife. They have two young children.
In New York, "we heard a large boom and then we saw all this debris just falling," said Harriet Grimm, who was inside a bookstore on the World Trade Center's first floor when the first explosion rocked the building.
"The plane was coming in low and ... it looked like it hit at a slight angle," said Sean Murtagh, a CNN vice president, the network reported.
In 1945, an Army Air Corps B-25, a twin-engine bomber, crashed into the 79th floor of the Empire State Building in dense fog.
In Florida, Bush was reading to children in a classroom at 9:05 a.m. when his chief of staff, Andrew Card, whispered into his ear. The president briefly turned somber before he resumed reading. He addressed the tragedy about a half-hour later.
(Copyright 2001 by The Associated Press. All Rights Reserved.)
APTV 09-11-01 0858MDT
Back to Main Terrorist Attack Page at KSL "Utah Station"
President Bush says "thousands of lives" were lost today in the terrorist attacks at the World Trade Center and the Pentagon, and the crash of a hijacked plane in Pennsylvania.
And he's vowing that the nation will find the people responsible -- and will retaliate as well against those who harbor them.
Bush, speaking in his first nationally broadcast address from the Oval Office, spoke of the anger and disbelief caused by the images of planes flying into the World Trade Center towers.
Bush says the terror attacks were supposed to "frighten our nation into chaos and retreat." But he says they failed to do so.
Instead, he says, "A great people has been moved to defend a great nation."
Bush says the search for the terrorists will involve the full resources of the nation's intelligence and law enforcement communities.
Bush called on Americans to pray for those who have lost loved ones in the attack.
He says the government continues to function, without interruption -- and that federal agencies will be open for business tomorrow
Terrorist Attack on America
Complete coverage of the horrifying attacks against the U.S. on Tuesday, September 11, 2001. Terrorists crashed two airliners into the World Trade Center and one into the Pentagon.

President Bush vowed on Saturday that U.S. troops will hunt down terrorists and "smoke them out of their holes" in a long, unrelenting war. He said prime suspect Osama bin Laden will not be able to hide from America's forces.
For the first time, he warned Americans they will have to sacrifice.

"I will not settle for a token act. Our response must be sweeping, sustained and effective," the president said in his weekly radio address. "We have much to do and much to ask of the American people.

"You will be asked for your patience, for the conflict will not be short. You will be asked for resolve, because the conflict will not be easy. You will be asked for your strength because the course to victory may be long," he said.

As the radio address was being broadcast, Bush met with his foreign policy teams at the Marine-guarded Camp David presidential retreat in Maryland. He had his toughest words yet for the terrorists who attacked New York and Washington and downed a plane in the Pennsylvania countryside.

"We will find this who did it, we'll smoke them out of their holes," Bush said.

"We'll get them running and we'll bring them to justice," he said.

Four days after the national tragedy, Bush braced Americans for a long, brutal battle against terrorism.

"There is a desire by the American people to not seek only revenge, but to win a war against barbaric behavior, he said.

Of bin Laden, Bush said: "If he thinks he can hide from the United States and our allies he will be sorely mistaken."

Bush had a message, too, for the 50,000 U.S. reserves being called into action.

"Everybody who wears the uniform (should) get ready _ the United States will do what it takes to win this war," he said.

His warning also was directed at sponsors of terrorists: America, he said, will "deal with those who harbor them and feed them and house them."

Bush on Friday called 50,000 military reservists to duty and shouted words of defiance amid the ruins of New York's World Trade Center.

"I can hear you," Bush said. "The rest of the world hears you. And the people who knocked these buildings down will hear all of us soon."

The first arrest in the investigation came Friday, a government official said.

The suspect, whose identity was not made public, was arrested because authorities believe he has information about the attacks and poses a high risk of fleeing the country, said the official, speaking on condition of anonymity.

Two other men picked up in Fort Worth, Texas, were flown to New York for questioning, officials said.

The devastation from Tuesday's attacks was still being assessed.

New York struggled to come to terms with the mounting casualty count: 124 bodies recovered, a total of 184 confirmed dead and more than 4,700 missing. Only five people have been pulled out alive along with more than 400 body parts.

Government authorities said 189 people _ a combination of military and civilian employees on the ground and the passengers and crew in the plane _ were believed to have died in the attack on the Pentagon.

Bush has authorized the call-up of up to 50,000 members of the National Guard and military reserves. He said the extra troops are needed in light of a "continuing and immediate threat" of further terrorist attacks on the United States.

That news sent shudders through the homes of thousands of reservists and their families.

Congress supported the call-up, giving quick and unanimous approval to a $40 billion down payment to help the nation recover and rebuild from terror attacks and retaliate.

Lawmakers also passed a measure to allow Bush to exercise "all necessary and appropriate force" against the terrorists, their sponsors and protectors. Only Rep. Barbara Lee, D-Calif., voted against it.

"These are different times," said Senate Minority Leader Trent Lott, R-Miss. "And we have got to act decisively. The American people expect it of us, and they will accept nothing less."

On the diplomatic front, support for U.S. action appeared to be solidifying.

Pakistani military and diplomatic sources said Saturday that Pakistan has agreed to a full list of U.S. demands for a possible attack on neighboring Afghanistan, including a multinational force to be based within Pakistani borders. The U.S. demands had also included a closure of Pakistan's border with Afghanistan and permission for flights over Pakistani airspace in the event of military action.

U.S. embassy officials were not immediately available for comment, and there was no formal announcement in Washington or Islamabad.

The New York Times reported that a senior State Department official met with 15 Arab representatives and told them they must declare their nations part of an international coalition against terrorism, or run the risk of being isolated in the growing conflict.

Federal investigators have released the names of 19 suspected hijackers who seized the four jetliners, two of which crashed into the twin towers and another into the Pentagon outside Washington. A fourth went down in rural Pennsylvania, apparently after passengers fought their hijackers. Some of the suspects have been linked to bin Laden or his organizations, according to current and former U.S. officials.

In areas far from the calamity and devastation on the East Coast, Americans still struggled to deal with the new realities and fears that have emerged since Tuesday's attacks.

Most airports returned to limited operation. Boston's Logan Airport reopened Saturday, leaving Reagan National Airport, just across the Potomac River from Washington, as the only major airport that will remain closed indefinitely.

(Copyright 2001 by The Associated Press. All Rights Reserved.)
Put your comments in the forum, as to how this affects you, and what we as proud Americans should do about this cowardly act of terrorism. Click here to enter forum.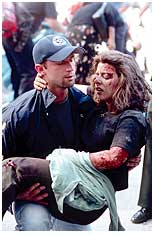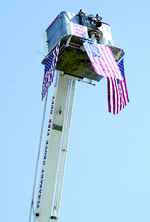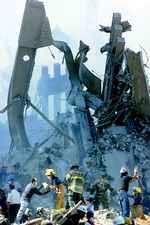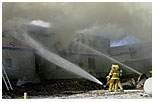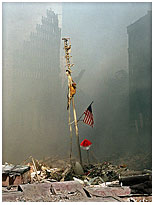 "The terrorists who piloted two planes into the World Trade Center apparently managed--either by careful calculation or evil luck--to have hit the buildings at their weakest spot to cause their disastrous collapse, structural engineers said Tuesday"
On the lighter side: On the lighter side contains a flash movie of President Bush and Secretary Powell singing about the demise of Bin Laden. Page 2 contains a Windows media movie of an interview With Bin Laden, and what some feel we should do to him. These two clips are not meant to offend anybody, and if you think they may please donít go there.
To a very well done flash movie, done by Steve (Sorry I don't know his last name) Its big and if you have a dial-up connection it will take a while to download. It is worth the time it takes. Warshaw Click to ENTER


Copyright © 2001-2011 Warshawsweb
Proud to be an AMERICAN!!!
Thank You Video for OUR TROOPS!