Victims Of The Trolley Square Shooting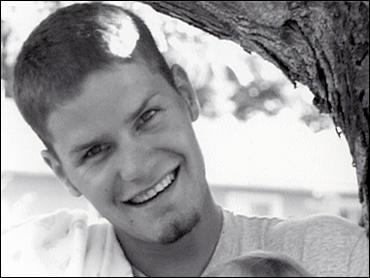 Brad Frantz Jeffery Walker Kristen Hinckley

Vanessa Quinn Teresa Ellis
God Bless the Families and Friend's of the victims. Our thoughts and prayers are with you.
Six dead — including gunman — at Trolley Square shooting
A man with a shotgun ran into Trolley Square and fired multiple shots, killing five people and hitting multiple other victims before he was killed Monday night, police said.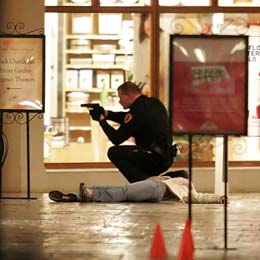 Mike Terry, Deseret Morning News
A Salt Lake City Police officer squats with his gun drawn next to a body inside the Trolley Square Mall Monday night. Six people, including the gunman, died from the shooting.
Salt Lake City Police Detective Robin Snyder confirmed the shooter was dead. She said there was only one gunman on the premises and that there were "multiple victims," with at least six fatalities, including the shooter. Several people were in critical condition at area hospitals.
Snyder said significant manpower was necessary to clear out the entire mall, which she said was difficult because of the intricate and old-fashioned design of the building.
Nearly three hours after the mayhem began, Snyder said police were still getting phone calls from people who were hiding in closets and fitting rooms inside the mall.
"There's a lot of scared people inside who want to get out," she said.
Numerous police and fire officials responded to the mall, at 700 E. 500 South, just after 6:45 p.m., hunting a male reported to be "actively shooting" inside the mall, according to Salt Lake City police dispatchers.
Witnesses heard several loud "pops" and "bangs" and ran for cover in stores, bathrooms, hallways and in a restaurant's freezer.
Brad Merrill was waiting with his son outside of the Spaghetti Factory when a shooter ran up the stairs and "blew the doors and windows off."
"He didn't say anything, he just shot in the door," Merrill said. Merrill ran inside the restaurant and yelled, "There's a guy with a gun!" Several people inside called 911.
Merrill's wife and other young children were inside another store at the time, and they were separated for over a half-hour. All of them were "pretty shaken up," he said.
At least two victims were taken to University Hospital in critical condition, and several others were being treated at the scene. Shoppers and employees at the mall were evacuated from the area as officials attended to the various injured and frightened people there, according to Salt Lake City Fire Assistant Battalion Chief Dennis McKone.
An off-duty Ogden police officer was in the mall at the time and fired his weapon at the shooter, killing him, according to Barrett Dodds, an antique-shop owner who witnessed the event.
Ogden Police Sgt. Blaine Clifford confirmed there was an off-duty police officer involved in the mall shooting. "I don't know what level of involvement he had."
Dodds said the shooter was about 6 feet tall, wearing a long trench coat and a backpack, and that he stopped to reload his weapon several times while inside the mall. Dodds said he heard as many as 20 shots fired, and he believed the man was "putting the gun to his shoulder and aiming at people."
LDS Hospital officials did not allow media inside the hospital emergency-room area. Intermountain HealthCare spokesman David Midget said the hospital was treating two patients, one in critical condition, the other in serious condition.
Of the two shooting victims taken to University Hospital, a 50-year-old man was undergoing surgery and was in critical condition, said hospital spokesman Chris Nelson. He said a 16-year-old was being evaluated in radiology. Extra security officers were on duty at the hospital, and the incident prompted an emergency room lock-down, as a precaution, he said.
Nelson said the families were still in shock.
Emergency personnel out- side Trolley Square were handing out blankets Monday night, as well as escorting several groups to safety, attempting to evacuate the entire location. The entire four-block radius around the mall was being treated as a crime scene, Snyder said.
Doug Irey, manager of the Pottery Barn at Trolley Square, said in a telephone interview that several customers were taking refuge inside his store while they were awaiting information from police.
"Everyone here is on the phone with loved ones, letting them know we're all OK. The SWAT team's just outside," he said. Irey said he saw people running around in the mall, but he didn't know exactly what was going on.
"Police advised us to find a safe location, and that was the last we heard," he said.
Irey said he was not immediately able to contact anyone at the nearby Pottery Barn Kids store, where it is believed the gunman may have fired several shots. He said regional store safety and security managers were in contact with employees who were in those stores at the time.
Cedric Wilson was working at the Rodizio Grill when he heard noise and went out to see what the commotion was. He said he saw a man point a gun at him and fire. The shotgun blast grazed his head, taking out a small clump of hair.
"It really didn't hurt that bad," Wilson said.
Two teenage girls heard the shots ringing out while they were inside the Desert Edge Brewery. After hearing one "really loud bang, people scattered everywhere," said Vera Bendixen. She and her friend, Tricia Temple, heard lots of rapid-fire shots and they ran into the pub's restroom, where they hid until employees told them everyone needed to get out.
Upon leaving the brewery, the girls said they passed two bodies lying on the floor on the second floor of the mall.
The incident, including a motive, remains under investigation. Multiple agencies were on scene most of the night, most of them armed. The entire area was secured and all businesses were closed Monday night.
Police were asking anyone with information about the situation inside the building during the incident to call them. Police were also urging people traumatized by the events but who weren't able to speak with police or fire personnel before leaving the scene to call Valley Mental Health at 801-261-1442.
Contributing: Deborah Bulkeley, Zack Van Eyck
The winding hallways of Salt Lake City's Trolley Square became a shooting gallery for an 18-year-old gunman in a trench coat who fired a shotgun randomly at customers, killing five and wounding four before being killed by police, authorities and witnesses said.
The shooter also was armed with a handgun and had several rounds of ammunition, Salt Lake City police Detective Robin Snyder said early Tuesday. It was not clear if he fired the handgun, nor had a motive been determined, she said.
The man's name was not released. He was a Salt Lake City resident.
"I was working and all of a sudden I heard a shot, and I saw security run by. I didn't really know what was going on. People just started running," a witness named Maya said.
Marie Smith, 23, a Bath & Body Works manager, saw the gunman through the store window. She watched as he raised his gun and fired at a young woman approaching him from behind.
"His expression stayed totally calm. He didn't seem upset, or like he was on a rampage," said Smith, who crawled to safety in an employee restroom to hide with others. She said the gunman looked like "an average Joe."
Killed were two 28-year-old women, a 52-year-old man, a 24-year-old man and a 15-year-old girl, Snyder said.
The surviving victims were transported to several area hospitals.
Surviving Victim Information
53-year-old male, critical condition
44-year-old female, critical condition
34-year-old male, serious condition
16-year-old boy, serious condition
Pregnant woman treated for psychological trauma
As of this morning, we know a 53-year-old man and a 44-year-old woman are in critical condition. Two other men are in serious condition. A woman who is 32 weeks pregnant was taken to Salt Lake Regional Hospital for severe psychological trauma.
The chaos at the mall erupted at 6:45 p.m. Witnesses told us they saw the gunman, heard the shots and screaming and saw the wounded.
Salt Lake police are encouraging anyone who was inside the mall at the time of the shooting, who may need counseling, to call Valley Mental Health at 261-1442.
"We have six fatalities (including the gunman) and multiple victims at hospitals," Snyder said. "They were found throughout the mall."
Barbara Lund was working in a store. "We heard the gunshots. They were pretty loud. Then one of my friends came out and told me there were gunshots there."
Matt Lund, Barbara's husband, said he saw a woman's body face-down at the entrance to Pottery Barn Kids. He locked himself and four others inside a storage room for about 40 minutes, isolated but still able to hear the violence.
The terror seemed to begin in the parking lot near the Williams Sonoma store. Two brothers leaving the mall saw a wounded youth taking shelter in a car.
"The young boy, he ran and jumped in a car. He'd been shot on this side, and his ear looked like meatloaf."
As the gunman entered the mall, he started blasting away with a shotgun. Fear and confusion spread. Police arrived within a few minutes. Hundreds of shoppers and workers took cover, hiding wherever they could. Some heard the final confrontation.
"We heard them say, 'Police! Drop your weapon!' Then we heard shotgun fire. Then there was a barrage of gunfire," Matt Lund, 44, said. "It was hard to believe."
Witnesses reported dozens of shots, perhaps 50 or more. And then silence. As some were cleared to leave by police, they saw the gunman's shotgun shells scattered around in front of shops.
"As we were running towards the north side of the building, we looked to our left, and there was glass shattered all over the floor next to the escalators. And maybe, it was so quick, but maybe 10 bodies lying on the ground," said witness Clifton Black.
Melinda Gurr added, "We were rushed out pretty quickly. We saw a bunch of bodies heaped on the floor, and there was glass everywhere. A pretty gory sight."
"It was really just scary. I wanted to get out of there," Black said.
Salt Lake City police Detective Robin Snyder said many employees and shoppers -- "a lot of scared people" -- still were inside at 9 p.m. MST, hunkered down and waiting for a police escort. "This is a huge area to cover," she said.
It's not known how many people were in the mall when the shots were fired, but Snyder said investigators had between 100 and 200 witnesses to interview.
By dawn Tuesday, two memorial sites with lighted candles and flowers were set up outside Trolley Square.
Some say officers treated everyone like suspects -- ordering those hiding in storerooms, bathrooms or under stairwells, to lie on the floor with their hands on their heads until police were sure no one posed a threat.
An antique-store owner, Barrett Dodds, 29, said he saw a man in a trench coat exchanging gunfire with a police officer outside a card store. The gunman was backed into a children's clothing store.
"I saw the cops go in the store. I saw the shooter go down," said Dodds, who watched from the second floor.
Four police officers -- one an off-duty officer from Ogden and three Salt Lake City officers -- were involved in the shootout with the gunman, Snyder said. She provided no other details.
She said she didn't believe there had been a shooting in Salt Lake City where so many people were killed.
"I don't know that we've ever had one that even compares to this," she said. "We had some incidents in the past here in Salt Lake City, but nothing of this nature."
Barb McKeown, 60, of Washington, D.C., was in another antique shop when two frantic women ran in and reported gunshots.
"Then we heard shot after shot after shot -- loud, loud, loud," said McKeown, who believes she heard approximately 20 shots.
She and three other people hid under a store staircase until it was safe to leave.
When one of our KSL crews arrived at Trolley Square, groups of people were huddled on the corners. They'd been evacuated and were waiting in the cold to be reunited with family, or to get their cars out of the parking lot, or their personal belongings.
We talked to a lot of those people. All were in different stores at the time of the shooting, but all heard the same thing.
"I heard the gunshot, and I saw the security guards run."
"Just heard this bang. Bang, bang, bang. It was just like random shots going off."
"We heard what sounded like big balloons, boxes being stamped on. You never expect gunshots. Then heard the glass doors being shot out and the gunman coming through there. We all screamed and ran and hid in the store."
"So we said to the owner of the store, 'Lock the doors. Lock the doors.' She did, and she turned the lights out so it looked like the store was closed."
Police eventually gathered all the witness inside Hard Rock Cafe to question them about what they saw.
As people ran from the mall for their lives, people also flocked to Trolley Square to see for themselves what was happening.
As KSL's Sam Penrod walked up to the scene, less than an hour after the shooting started, people were in tears and in shock, just wondering if this was really happening. They were also waiting for some kind of an indication that it was safe again. The victims who were inside the mall at the time of the shooting and ran for their lives just stood around, almost in disbelief. Many of them witnessed the shooting, they heard the shots, they saw people running and screaming to get out.
They told us they waited for the police to get here. The sight of the police cars was a huge relief, knowing that something could be done to end this nightmare.
With all the commotion, neighbors started coming out of their houses to see what was happening. Soon, fire trucks and ambulance after ambulance came to the scene. So did police officers. More than an hour after the shooting, reinforcements continued to arrive.
For those who were there Monday night, it's been terrifying and traumatizing. People are going to need time to heal emotionally, to recover from such a terrible night.
(The Associated Press contributed to this report)
Copyright © 1999-2007 Warshawsweb